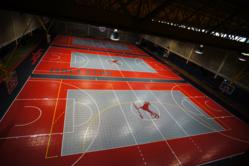 The University of Puerto Rico's Rio Piedras Campus has retro-fitted their gymnasium with 18,000 square feet of the multi-patented SnapSports BounceBack® flooring with ShockTower® technology. The existing surface consisted of polyurethane over recycled rubber that was tired, worn, and considered unsafe for sports play. 'ABC Sports', the authorized dealer for SnapSports® Athletic Surfaces in Puerto Rico, removed the old gym floor and prepared the concrete to receive the new high-tech SnapSports surfacing. The arena is heavily used by students and top athletes for volleyball, basketball and team handball. It is the largest SnapSports project in Puerto Rico to date.
"This campus is the University of Puerto Rico's biggest of 12 additional campuses around the Island. The games that are played on these courts draw a lot of attention from the sports reporters and media in Puerto Rico. The male National Volleyball Team that represents Puerto Rico in every competition around the world has made these courts their home base for their practices. The head coach for the National Team, Mr. David Alemán, as well as the players, is extremely pleased with the new SnapSports ShockTower® surface." – Abid Quinones, President ABC Sports.
SnapSports ShockTower® is an exclusive patented technology delivering top rated performance and safety through 16 individual shock absorbers per square foot within the sub-structure of the entire floor. The 'Shocks' provide an added level of "cush" to help prevent injury during aggressive play by reducing impact on players joints and limbs.
"I've met several times with the university's athletic and recreation department managers. They all had 100% faith and trust in ABC Sports and their ability to deliver the best surface for UPR's student athletes. They couldn't be happier with their floor." – Robert Dougherty, International Sales Manager, SnapSports, Inc.