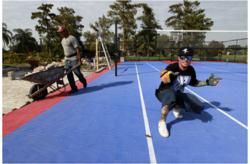 SnapSports®, the world's leading manufacturer of modular sport flooring and outdoor courts, will be featured on the upcoming episode of DIY Network's Hit Series, The Vanilla Ice Project, set to air Sunday, February 24, 2013 at 10PM Eastern Standard Time. The episode includes a complete renovation of a backyard space with the install of SnapSports backyard multi-game court.
The Vanilla Ice Project follows the 90's pop icon and his crew of contractors as they conduct a massive room by room home renovation, transforming the less than impressive space into lucrative real estate. Sunday's episode of the hit TV series, now in its third season, will feature a full backyard renovation, replacing an old washed out tennis court with a world class multi-court using the SnapSports® patented outdoor sports surfacing.
"We turned an old, rotten and cracked tennis court into something new with state of the art technology. If you want the best, then this is the court for you." – Rob Van Winkle, Vanilla Ice Project.
SnapSports® outdoor game courts are the safest and most durable outdoor multi-courts on the market. SnapSports athletic surfaces are Built for Life™ engineered specifically to withstand all the elements, throughout every season, while delivering healthy sports fun to families worldwide. SnapSports patented outdoor courts provide a versatile and seamless surface for a wide range of sports including, BounceBack® , DuraCourt®, and the BounceBack ShockTower®, the most shock absorbing outdoor surface in the world.
"We're excited for the opportunity to continue our relationship with the DIY Network and the Vanilla Ice Project by having an all-star home court installation for this incredible backyard remodel." – Jorgen Moller, CEO, SnapSports, Inc.