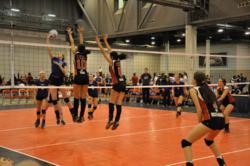 SnapSports® Athletic Surfacing is the tournament flooring for the Annual Junior Volleyball Association's World Challenge, an AAU Sanctioned event, taking place in Louisville, Kentucky, April 12-14, 2013. The event hosts top youth athletes competing in two-day tournament style play, for which all games will be played exclusively on SnapSports championship volleyball courts.
The World Challenge is the only major fundraiser for the Junior Volleyball Association. This year's tournament will feature competition amongst teams from the United States and Canada, while providing interactive experiences to enhance the overall event. The JVA Organization has also partnered with AVCA, to host the 2013 AVCA/NCSA College Prep Combine, giving athletes a chance to build their recruiting profile.
SnapSports® Athletic Surfacing, the industry leader in modular sports flooring, is the perfect fit for a tournament of young athletes. The superior shock absorption offered by SnapSports multi-patented ShockTower® Technology, eases the impact on players' joints and allows athletes to play better, faster, and safer. The exclusive multi-patented technology is the reason that SnapSports remains the top choice for coaches and athletes worldwide.
"The opportunity to work with the Junior Volleyball Association and provide our courts to another AAU Sanctioned event, is exciting for SnapSports, as we continue to support youth sports and youth sports organizations at every level." – Jorgen Moller, CEO, SnapSports