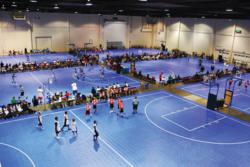 SnapSports®, the world's leading manufacturer of modular sports flooring and outdoor game courts, will provide all official sport surfacing for the 2013 AAU 'Jam On It' Las Vegas Shootout Basketball Tournament taking place March 23-24. Participating athletes will compete on SnapSports multi-patented Indoor BounceBack ShockTower® floors, designed to deliver superior performance and reduce impact to player joints using shock absorption technology.
Hosted by Jam On It – All Under One Roof Tournaments, one of the premier tournament event operators in the country, The Las Vegas Shoot out will take place at the Tarkanian Basketball Academy in Las Vegas, Nevada. The event will host boys and girls, 4th grade through varsity, for two days of intense competition. The Jam On It – All Under One Roof organization, has been hosting top level AAU Sanctioned events for over 15 years and takes pride in their commitment to quality and athlete safety, making SnapSports® the clear choice as the Official Basketball Flooring for all tournaments.
"Over the years we've used nearly every indoor modular surface and I can say unequivocally that SnapSports products are the best in the industry!" – Matt Williams, CEO, All Under One Roof – Jam On It
SnapSports® Athletic Surfaces offer the premier modular sports flooring and outdoor multi-courts on the market today. Engineered specifically with performance and safety in mind, SnapSports ShockTower® surfaces provide superior shock absorption through patented technology ensuring longer and safer play. Unmatched traction, ball response and durability make SnapSports the top choice of athletes, coaches and facility managers world-wide.
"SnapSports continues to support the sport of basketball and encourage youth athletics through our partnership with the AAU 'Jam On It' organization. We welcome the opportunity to provide a superior playing surface on which these young athletes can safely compete." – Jorgen Moller, CEO, SnapSports, Inc.