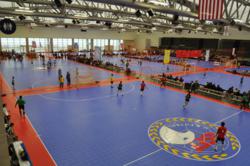 SnapSports® Athletic Surfaces, the industry leader in modular sport surfacing and official flooring of the U.S. Futsal Federation (USFF), is the exclusive sports surfacing of the organization's Northwest Futsal Championship. The USFF Sanctioned Championship Tournament will be held in Hayward, California, March 8-10, 2013. All tournament play will take place on SnapSports multi-patented BounceBack® ShockTower®, the premier surface for the fast paced and aggressive play of Futsal.
Now in its fourth year of partnership with SnapSports®, The U.S. Futsal Federation, governing body of the sport of Futsal in the United States, hosts yearly Regionals and a National Championship all played on SnapSports premium athletic surfacing.
"With over 5,000 participating athletes, I rest assured that not only are we competing on a surface that exhibits superior ball play, we are providing the safest sports flooring available. SnapSports® has manufactured a high performance product with an incredible level of protection from injury upon impact that U.S. Futsal® is proud to endorse."
~ Alex Para – CEO, USFF
SnapSports® multi-patented BounceBack ShockTower® indoor flooring, is the industry's leading athletic surfacing, providing superior durability and a patented absorbent sub-structure, allowing athletes to play better, faster, and longer. The ball passing and foot control technique required in the sport of Futsal, are never an issue with SnapSports surfaces, making it the clear and only choice for the United States Futsal Federation.
"We have enjoyed the opportunity, over the last four years to continue our ongoing partnership with the U.S. Futsal Federation. The growth of Futsal in the U.S. is rapidly on the rise and we are excited to contribute to the momentum using our patented sports surfacing."
~ Jorgen Moller – CEO, SnapSports, Inc