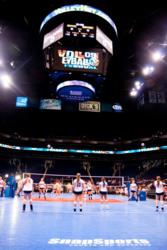 SnapSports, the industry leading manufacturer and provider of premium modular sports surfacing and athletic courts, is the official championship flooring for this year's Volleyball Festival http://www.volleyball-festival.com championship games.
The 28th Annual Volleyball Festival has over 7000 female competitors and is one of the largest women's volleyball tournaments in the country. Approximately 550 teams with girls ages 12-18 will compete in seven different age divisions at the Phoenix Convention Center from June 23-27, 2011, 131 of which will be from Arizona. Past participants have included former Olympians Kerri Walsh, Misty May, Heather Cox, Kristin Folkl, Holly McPeak, Tara Cross-Battle, and Kelli Tennant. The championship courts feature the multi-patent SnapSports ShockTower® flooring, the most top rated modular volleyball court worldwide.
"To have our volleyball surfaces chosen above all others for the world's top volleyball players to compete on makes all of us at SnapSports proud, and is a true testament to the unmatched performance the SnapSports ShockTower® sports flooring delivers" said Jorgen Moller, CEO, SnapSports.
The SnapSports patented ShockTower® surfacing the athletes will compete on, is the industry's first and only modular volleyball flooring system to incorporate a patented absorbent sub-structure and is the industry's most advanced suspended modular sports flooring. ShockTower® surfacing has a multi-patent design, which features a resilient shock technology that offers excellent impact control and rolling support for added level of player safety and superior performance.
"We are very pleased to have worked with the SnapSports team and to have top players from around the world play on the SnapSports volleyball surface during our 28th year of the festival, the player and coaches love to compete on SnapSports volleyball courts" said Bernice Epperson – CEO of Festival Sports, Inc.