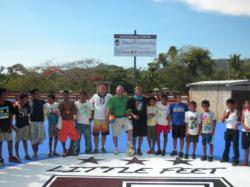 In May, 2011, the Little Feet Foundation, in partnership with Skullcandy®, completed the installation of a multi-patent SnapSports outdoor Futsal court, in Huacas, (Tamarindo) in Northern Costa Rica, for the children of the villages surrounding the area. SnapSports® Futsal surfaces are the official flooring for United States Futsal Federation (USFF), the governing body for the sport of Futsal in the U.S.A.
The Little Feet Foundation, founded by Trevor Slavick, was created with one big goal in mind; sending soccer balls to underprivileged children around the world. Trevor conceptualized the idea for Little Feet, while working as an airline pilot and playing soccer with children in the more impoverished areas of Central and South America. Working in partnership with, Skullcandy®, a Park City, UT based company, known for it's generous humanitarian efforts around the world, the team at Little Feet have been able to give the gift of soccer to the less fortunate children in the area of Northern Costa Rica, with the installation of a SnapSports® Futsal Court.
"We are happy to partner with a great company like Skullcandy, and a world class foundation such as Little Feet, to provide a high-quality SnapSports Futsal pitch to the children of these impoverished Costa Rican Villages, giving them the opportunity to participate in a sport they love, it's very rewarding for us all here at SnapSports" Jorgen Moller, CEO, SnapSports, Inc.