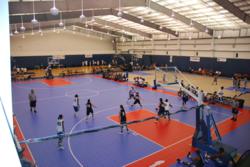 Considered to be one of the biggest basketball tournament events in the Western United States, the AAU Big Mountain Jam returns to the Southtowne Expo Center, in Sandy, Utah, June 30 – July 2, 2011. All tournament games will be played on SnapSports Basketball Surfacing, featuring multi-patent ShockTower® technology.
The Amateur Athletic Union (AAU) All Under One Roof Big Mountain Jam will pit hundreds of boys and girls teams from across the country against each other in tournament style play, at the Southtowne Expo Center, in Sandy, UT. Teams from around the country will compete during the five-day mega event, which is one of the largest amateur sporting events in the US, where they will face off for the opportunity to call themselves the best amateur team in the country. 
Over 83,000 feet of SnapSports patented BounceBack ShockTower® flooring will be in play for the tournament, with 16 basketball courts for the duration of the event. SnapSports patented ShockTower® surfacing, is the industry's first and only modular flooring system to incorporate a patent shock absorbent sub-structure and is the industry's most advanced suspended modular sports flooring. SnapSports ShockTower® surfacing has a multi-patent design, which features a resilient shock technology that offers excellent impact control and rolling support for added level of player safety and superior performance.
'There is no way travel basketball teams will play on plastic floors', that was me just a few years ago. Last year, in Salt Lake City, I laid 16 SnapSports floors at the Southtowne Expo Center, typically all teams in Utah play on wood floors, so I was nervous about what teams would think. I had 155 teams, played 468 games in 5 days and received tremendous feedback from players and coaches. They play like wood, have a true bounce, and even squeak like a wood floor, I'm a convert!!!" said, Mike Killpack – Tournament Director, Big Mountain Jam AAU Basketball Tournament.
The AAU is one of the world's largest volunteer sports organizations in the country and its mission is to develop and promote amateur physical fitness and sports programs. AAU basketball players, both of the past and present, have a long history of dominating the rosters of the most distinguished basketball tournaments across the nation.
"To have a world-class organization, which promotes healthy competitive youth sports and right here in our own backyard, is fantastic! It's rewarding to be chosen as the AAU Big Mountain Jams' exclusive sports flooring over all other competitors," said Jorgen Moller – CEO of SnapSports.