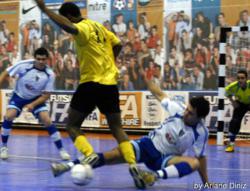 The USFF championship event is recognized as the oldest, largest and most prestigious Futsal event in the United States and is being held in Anaheim, California from July 14 – 17, 2011. Teams from all around the country will compete for the right to call themselves the best in the country. The United States FUTSAL® Federation (USFF) is the national governing body for the sport of Futsal, in the United States.
All of the championship games will be played on SnapSports BounceBack® Futsal Courts. The SnapSports Futsal flooring features an exclusive multi-patent design that makes it ideal for the high-impact and fast play of Futsal. The patent resilient shock technology is designed with performance and safety in mind offers excellent impact control and superior ball response.
"We're proud that the top US Futsal players chose to play on our courts over any other competitors and we consider it a testament to the unmatched quality and performance of our vast sports flooring line-up," Jorgen Moller- SnapSports.
FUTSAL is a five-a-side version of soccer for competition and is played on basketball-sized pitches, both indoors and out without the use of sidewalls. This exciting and fast paced sport traces back to the 1930's and today is played worldwide at every level of competition. Today, FUTSAL is experiencing explosive growth in the US. The U.S. Soccer Association (USYSA) and U.S. Futsal Federation signed an agreement in August of 1995, to promote FUTSAL in all of their National State Associations as their game of choice for indoor soccer under the auspices of U.S. FUTSAL. You will also find soccer coaches across the America are using FUTSAL to train athletes, working on technical skills. Creativity and technique are essential for the game and ball passing and foot control make the difference in winning or losing, that's why the U.S. Futsal Federation chooses SnapSports as the exclusive, official futsal sports surface for all their indoor competitions and named SnapSports® the official flooring of the United States Futsal Federation.
When asked why the United States Futsal Federation, made the switch from their previous modular surface option, Alex Para, CEO of the U.S.F.F stated, "We were excited to work with SnapSports. They are the clear industry leader in modular sports flooring, their superior quality, simplicity for installation and innovative performance driven sports flooring made this the right choice for U.S. FUTSAL and the sport of FUTSAL" Said Para.