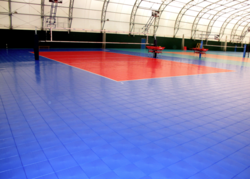 SnapSports® was pleased to deliver and install a premium "BounceBack® ShockTower®" Volleyball Court for the the volleyball teams at their Olympic practice facility in London July 18, 2012.
Salt Lake City, Utah (PRWEB) July 20, 2012 — Salt Lake City, Utah based SnapSports delivered and install a premium "BounceBack® ShockTower®" Volleyball Court for Olympic volleyball practice facility in London July 18- August 11, 2012.
"Supplying our patented ShockTower® volleyball courts for our countries volleyball team to practice on prior and during the games, was a rewarding expiernece for us all and a testament to our top rated U.S.A. made sport floor systems" Said Jorgen Moller- SnapSports
The multi-patented ShockTower® surfacing is the world's first and only full suspension modular floor with built-in shock absorbers, over sixteen individual shocks per square foot forconsistant play. Engineered to not only protect players during impact, but also improve overall sports performance during play. ShockTower technology is available for both commercial and residential indoor & outdoor courts exclusively from SnapSports®, the world's leader in quality modular sport flooring and residential outdoor game courts.
SnapSports is family owned with all of their flooring products designed, engineered and manufactured in Salt Lake City, Utah in their 100,000 square foot ISO 9001:2008 Quality Systems Certified facility and support by a global distribution network.
"Knowing that our countries teams will practicing and honing their skills on our top performance rated ShockTower volleyball game courts, is very rewarding to everyone here at SnapSports®" said Moller.
SnapSports is the official sport surface provider for the United States Futsal Federation (USFF) , AAU Basketball Jam on It, Volleyball Festival, Special Olympics, 2011 World Police & Fire Games, AAU Basketball All Under One Roof, Veteran Wheelchair Games, Colorado Crossroads, National Collegiate Roller Hockey Championships, AAU Big Mountain Jam and U.S.A. Team Handball, to name a few.