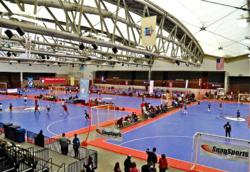 SnapSports , the industry-leading manufacturer and supplier of modular sport surfacing and the official sports flooring of the 'United States Futsal Federation' (USFF), will be providing the official Futsal courts for the 2013 Northeast Futsal Regional Championship, in Wildwood New Jersey, February 16-18.
"Everyone at SnapSports® loves the sport of Futsal® and are proud to once again be chosen as the only approved sport surface able to meet the high-performance demands of Futsal competition by the USFF, " says Jorgen Moller of SnapSports.
SnapSports athletic floors and courts are engineered specifically for all weather durability and performance. Whether matches are played indoors or out, SnapSports surfacing will perform at the highest level, ensuring both unmatched safety and performance.
"Each year SnapSports continues to lead the industry in modular sports floors and outdoor game courts; designing and manufacturing cutting edge products that far surpass the competition." – Alexander Para, CEO, United States Futsal.
The Northeast Futsal Regional Championship is a USFF sponsored event, held at the Wildwood Convention Center, located directly on the Jersey Shore. The tournament features teams of 12, ages 10 and older, engaged in two days of fast paced competition; the winner to be crowned the Northeast Regional Champions.