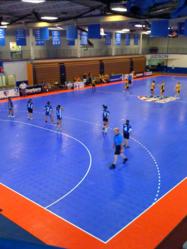 SnapSports®, the industry leading manufacturer of athletic surfacing, will be supplying a SnapSports® multi-patented Futsal pitch, for Scout-O-Rama 2011, being held at the South Towne Expo Center, in Sandy, UT on April 30, 2011. The SnapSports® Futsal soccer court will be used as an interactive showcase, to garner more youth involvement in the game of Futsal, and also to give kids the opportunity to learn more about scouting.
Utah's 2011 Scout-O-Rama, hosted by the Great Salt Lake Council, Boys Scouts of America, will not only be an opportunity for the scouts to showcase their skills, but also will highlight the kick off of their focus on 'A New Century of Scouting Service', by which the scouts put an emphasis on completing 2011 hours of service and encourage all attendees to participate as well, by bringing a canned food item to be donated to the Utah Food Bank or a children's book to be donated to Read Today.
The annual Scout-O-Rama event is expected to bring 25,000-30,000 attendees of all ages and give them the opportunity to participate in fun and exciting "hands-on" exhibits, including an interactive clinic with two indoor soccer leagues that will be playing games on the SnapSports® Futsal court.
SnapSports® multi-patented sports surfacing, is specifically designed to endure high-performance play by athletes of all ages and ability. Incorporating a multi-patent shock-absorption technology, SnapSports® athletic surfacing, eases the impact on joints, allowing athletes to play safer and longer. As the official flooring of the United States Futsal Federation (USFF), SnapSports®, is delighted to partner with an outstanding organization like the Great Salt Lake Council, Boys Scouts of America, to help promote youth involvement in the sport, and within the scout's organization.
"Having this event right in our backyard is fantastic, everyone here at SnapSports is looking forward to seeing an exciting weekend of fun family oriented sports competition take place on our floors. "- Jorgen Moller, CEO, SnapSports, Inc.
The Scouts Organization hopes that by incorporating the sport of Futsal they can encourage more Hispanic youth to become involved in scouting as well. Also expected to join in Saturday's activities is Leo the Lion, ReAL Salt Lake Mascot, who will stop by and help the kids do some goal shooting on the SnapSports® Futsal court later that afternoon. The Great Salt Lake Council has also announced Jerry Sloan, as the 2011 Scout-O-Rama Honorary Chairman.
"It's these kinds of partnerships that are what scouting is all about."- Reid Hall, Boy Scouts of America, Great Salt Lake Council.