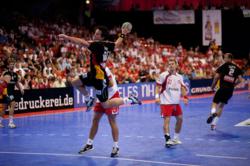 SnapSports® Athletic Surfaces is the official flooring of the 2013 USA Team Handball Club National Championships, to be held May 17-19 at the Reno-Spark Convention Center in Reno, Nevada. SnapSports multi-patented sports surfacing is the preferred tournament surfacing of USA Team Handball and the top performing sports flooring in the industry.
The USATH 2013 Club National Championship is the largest annual Handball competition in the country. Teams from across the nation will diverge on Reno to participate in this championship tournament during the course of which, the best among them will be decided. The athletes will play at the Reno-Sparks Convention Center on over 30K square feet of SnapSports multi-patented Revolution ShockTower® surfacing.
"Our Partnership with SnapSports has allowed USATH to grow both in popularity and organizationally. We have had the opportunity to work with other modular floor companies, but we chose SnapSports… their products have outperformed our expectations and we prefer their surfacing over others in the industry."
~ Jeffrey Utz – President – USATH. USA Team Handball
SnapSports multi-patented Athletic Surfacing, the official surface provider for USA Team Handball, is the top rated sports flooring in the industry. Engineered specifically with safety and performance in mind, SnapSports products offer unmatched durability and traction while featuring superior shock absorption using the patented ShockTower® technology.
"SnapSports enjoys the continued opportunity to be the Official Surfacing Partner of USA Team Handball. Our multi-patented products provide the traction and control that are crucial elements in the sport of Handball. SnapSports surfacing ensures player safety and keeps athletes performing at their peak."
~ Jorgen Moller – CEO, SnapSports Inc.