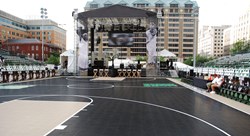 Salt Lake City based SnapSports® will team with the NBA® for the 2014 All-Star Jam Session set to take place February 13 – 16 at the Ernest N. Morial Convention Center in New Orleans, Louisiana. Over 100,000 square feet of SnapSports patented, high-performance athletic surfacing will outfit All-Star Jam Session, the premier NBA fan event of the 2013 – 2014 season.
The event will bring national press and recognition to SnapSports, owned and operated by the Salt Lake City Family largely responsible for pioneering the modular sports flooring and outdoor court industry you are familiar with today. Each of the 15+ courts used during the 2014 All-Star Jam session were engineered, manufactured, and shipped from SnapSports Salt Lake City manufacturing facility. As the first athletic surface is scheduled for installation on Friday February 7th, the team at SnapSports could not be more elated with the NBA Partnership.
"The NBA is the worldwide leader in all things basketball and without a doubt home to the world's elite players and coaches. The lengths and efforts they put forth for connecting with their fans and making meaningful differences in the community, however, are what really set this organization apart. We are ecstatic that the NBA recognized the technological advantages in our products and chose SnapSports as their partner of the future."
~ Jeff Vance – SnapSports Global Sales Manager
Fans of all ages are invited to attend the NBA All-Star Jam Session which promises wall-to-wall fun for the entire family. An estimated 100,000+ attendees will have the chance to dunk, shoot, dribble, and display their own all-star skills on over 15 basketball courts featuring industry leading sports surfacing provided by SnapSports. The interactive event notably gives fans the chance to meet current NBA stars as well as NBA legends, creating an unforgettable experience for basketball fanatics.
"Everyone at SnapSports is proud to be working with the NBA and supplying more than two acres of our top rated basketball surfacing for this year's NBA All-Star Jam Session in New Orleans,"
~ Jorgen Moller – SnapSports CEO
The surfaces chosen for use during the 2014 NBA All-Star Jam Session deliver not only top rated safe play but superior performance. SnapSports athletic floors are applauded worldwide for their ease of installation and patented technology that delivers the look and feel of a suspended hardwood floor without the maintenance, hassle, and cost. SnapSports surfaces feature the patented ShockLock® interlocking system which delivers vertical and lateral shock absorption, an industry first, guaranteeing greater protection for athlete's joins during high impact play.