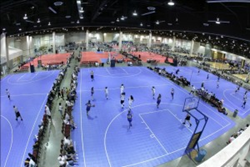 Salt Lake City, the home of SnapSports® Athletic Surfaces, welcomes the Amateur Athletic Union's (AAU) 2014 Big Mountain Jam! This three-day tournament, comprised of over 300 teams will, will be played on 28 SnapSports Indoor ShockTower® surfaces chosen for top ratings in performance and ease of installation. We are excited to be able to participate in an event right here in our own back yard.
"To partner with such a world class event hosted in our own backyard is an incredible opportunity; our team is looking forward to catching a great weekend of competitive basketball action." – Jorgen Moller, CEO SnapSports
AAU, now in its 23rd year of tournament hosting, is recognized as one of the premier event operators in the country hosting over 40 tournaments a year. Big Mountain Jam continues to grow with teams traveling from Utah, Nevada, California, Idaho, Colorado and Canada
AAU tournaments are professional events that are fun and guaranteed safe for athletes of all ages. For the safest surface on the market, Big Mountain Jam chose SnapSports Indoor ShockTower®, the only modular surface with a shock absorption system built into the under-structure of the floor.
Athletes, coaches, and AAU Officials alike look forward to competing on the tournament surfacing and SnapSports is looking forward to being there for all the action!